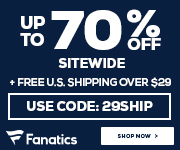 Calling all Tampa Bay Buccaneers Fans. Thanks for visiting this news blog site.
If you are looking for gear click the link to Shop ProFanGear.com for Tampa Bay Buccaneers Gear. I've teamed up with Fanatics to connect my readers with the best selection of officially licensed Tampa Bay Buccaneers fan gear out there. If you purchase through my links, I will earn a commission that will support the work I do on this site. Tampa Bay Buccaneers fans bookmark this page and keep up with the latest Buccaneers news and happenings. Thanks again for visiting.
Super Bowl LIV Open Thread

by

James Yarcho

on February 2, 2020 at 11:00 pm

Kirby Lee-USA TODAY Sports Here's your stop for all the conversation surrounding Super Bowl LIV We made it. It's the final game of the season. The big one. The fight for the Lombardi. The NFC Champion San Francisco 49ers and AFC Champion Kansas City Chiefs will go head to head on the biggest stage we'll see all year long. The San Francisco 49ers are on a quest for their sixth Lombardi Trophy while the Kansas City Chiefs look to get their first one since Super Bowl IV in 1970 where they defeated the Minnesota Vikings 23-7. Patrick Mahomes has become the darling of the NFL and looks to bring Chiefs fans the title that has eluded them for five decades. Kyle Shanahan is looking to put the 28-3 implosion against the New England Patriots behind him as he and former Buccaneer John Lynch have teamed up to create one of the best teams in the NFL. There's no shortage of storylines, elite players, or potential outcomes in this one. Follow along with fellow Buccaneers fans in the comment section as we watch the final game of the 2019 season and look to officially kick off the 2020 off-season. The Kansas City Chiefs are -1.5 point favorites against the 49ers in Super Bowl LIV at Hard Rock Stadium in Miami, Florida.

Two Super Bowl Free-Agents for Bucs fans to watch

by

David_Harrison

on February 2, 2020 at 9:00 pm

Photo by Thearon W. Henderson/Getty Images One guy from each side who could become a Super Bowl Champion before moving to Tampa Bay Seems like just yesterday the Tampa Bay Buccaneers were opening up training camp with the rest of the NFL. But now, we're here for the day the season will come to an unofficial end, and every team will look forward to 2020. Well, either the San Francisco 49ers or Kansas City Chiefs are going to have an extended celebration period first, but then they'll be looking on to 2020. Neither of last year's Lombardi competitors are in this year's game. In fact, the Los Angeles Rams failed to even reach the post-season. And both the Chiefs and 49ers have players who could become a part of why the Bucs reach the post-season in 2020, even if the team they're playing for now, don't. So let's focus on one guy from each side of this Super Bowl match-up, in search of a future member of the Buccaneers roster. SAN FRANCISCO 49ERS FREE-SAFETY, JIMMIE WARD Kirby Lee-USA TODAY Sports In his sixth season, Jimmie Ward and the San Francisco 49ers defense has been the biggest part of getting their team to Super Bowl 54 in Miami, Florida. With his seventh season coming up, he may be moving to the east coast for good if he decides to go play for the franchise where his current general manager became a Hall of Fame worthy NFL safety himself. Whether or not Ward wins a Super Bowl with John Lynch this season, the two are going to have to engage in some contract negotiations which may not end up in San Francisco keeping this key defensive back who played in thirteen regular season games in 2019. One of the hang-ups if the two sides don't agree on a contract, will surely be Ward's injury history. Ironic, considering his injury history – and ability to rebound from it – is one of the reasons he's such a key part of the current roster. But once the business side gets going, facts like Ward having played in sixteen games just once in his career, are going to be big negotiating points. Of course these things can be resolved in bonuses, but they can also be resolved by seeking out a new employer, so the chances Ward at least entertains outside offers is solid.